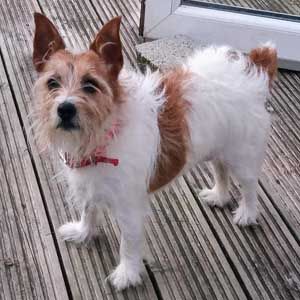 Pixie
Female Terrier, 8 years old
Suitable with Children – Older Teens Only
Suitable with Other Dogs – Any Other Dogs
Suitable with Cats – No Cats
Suitable with Other Animals – Unknown
Pixie is a highly strung little terrier, but a terrier nevertheless. She is only 7 years old, although she looked so much older when she was first brought to us.
Pixie had become bored and frustrated in her previous home, and as a result she developed stereotypical self harming behaviour to help her cope. She had her tail removed as a result of this.
We have had to encourage Pixie to become a dog again, and a terrier. This work is ongoing in her foster home, where she is living happily alongside 2 other dogs, and has someone home all day to keep an eye on her, and provide plenty of stimulation, which she desperately needs.
This very special girl is seeking a vibrant home, where there will be plenty to keep her interested and occupied. She would do well with another dog, or dogs, ideally stable, sociable, well adjusted males. She would like several walks and games throughout the day, in small doses as she is still adjusting to being a dog.
A dog friendly garden is essential as she is loving being able to stretch out and run.
There must be someone at home as she doesn't do well when left.
This lovely little dog is a work in progress. We have started her rehabilitation. Could you take up the baton and run with it, to give Pixie the new life she so deserves?