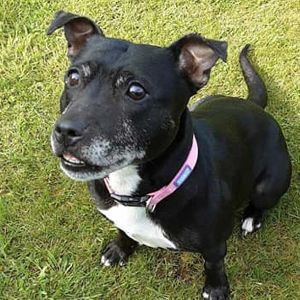 Coco
Female Staffie, 7 years old
Suitable with Children – Older Teens Only
Suitable with Other Dogs – No Other Dogs
Suitable with Cats – Untested
Suitable with Other Animals – Not suitable
Little Coco was left at the vets needing urgent surgery to save her life. Her family was unable to keep her. We were asked to help, and had no hesitation in stepping up for this sweet girl. She is healed now but still has specific needs which will have to be managed, so her new owners must be willing to accept Coco as she is, and be willing and able to continue the work started by her foster carers, and work alongside the trainer to help Coco progress further.
Coco is 7 years old, but she is, to all intents and purposes, a puppy, lively and strong, inquisitive yet anxious and insecure. She is bright, willing to learn, and wants to please.
She is reactive to other dogs, and at this stage she cannot be left.
We feel she would be best suited to an active, but patient retired couple, keen to train or get involved with training, and she does need a secure garden with a lawned area. She cannot live with other dogs but possibly ok with cats.