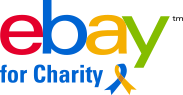 We have joined together with ebay as part of their "for charity" programme. For more info about this scheme please see below.
If you have any items that you would like to sell on our behalf then please visit the ebay for charities help page to learn how to get started, or visit the K9 Crusaders charity page .
MORE INFORMATION
In a nutshell, what is it?
eBay for Charity is an easy way for buyers and sellers on eBay.co.uk to support their favourite charities. Buyers can shop for items knowing they're supporting a good cause. Sellers, whether they're individuals or businesses, can donate a percentage from any sale to a charity of their choice and add Gift Aid to their donations. Charities can also sell their own items directly on eBay.co.uk.
In addition, all eBay for Charity items will qualify for a fee credit on basic insertion and final value fees equal to the percentage donated.
You can learn more about eBay for Charity on our Help page.
The 1-2-3 of selling for charity
Once you're ready to sell your item, go to the Sell hub and select 'Advanced Sell'.
If you're stuck, you can get some tips on how to list
As you're filling out the details, look out for the charity box just below where you set your price.
Select a charity to support and the percentage (10%-100%) of your final selling price that you'd like to donate
Three weeks after your item sells, PayPal Giving Fund (eBay's partner charity) will automatically collect the donation from you.
You can also manage your donations through the 'My Donations' section of My eBay, under the My Account tab. Any fee credits will appear on your next invoice
eBay for Charity donations are administered by PayPal Giving Fund
PayPal Giving Fund is a registered charity (No. 1110538) that enables eBay and PayPal users to give to charity quickly and easily. PayPal Giving Fund certifies charities to participate in the eBay for Charity programme, and collects donations from eBay and PayPal users. It also distributes those donations and Gift Aid to donors' chosen charities, which receive 100% of the funds raised. Learn more about PayPal Giving Fund.