Welcome to K9 Crusaders Dog Welfare
Registered Charity No 1138278
Thanks for visiting us today. We are a Cornish based rescue, rehoming and rehabilitation centre who service the whole of Cornwall. We are independent and rely solely on donations to survive and on our small but dedicated team to run the centre, fundraise, conduct behavioural support, and advise on any aspect of dogs and dog welfare.
Please have a look around our site; learn more ABOUT US, see our DOGS NEEDING HOMES, or check out our UPCOMING EVENTS . If you need to get in touch with us regarding anything dog related please use our CONTACT US form or call us on
01872 560232
General PHONE enquiries: 10am - 4pm, Emergencies only: 24 hrs
PLEASE NOTE As we offer full behavioural support we are only able to rehome dogs in CORNWALL
To visit the kennels to meet a dog you MUST first call for an appointment on the above phone number (Booked appointments are usually made between 11am-12.30 and 2-3, 7 days a week). If you call on the offchance between 11am-12.30pm and 2-3pm, our appts will take precedence, but as long as its within opening hours, we will endeavour to help if we can.
As you all know we are in the middle of a pandemic and this has changed everything for our little independent rescue. All our normal fundraising this year has been stopped...no dog shows, summer fayres, fetes and sponsored events and our shop was closed during both lockdowns. All of this has cost us many £1000s.
We have also had to find a new compliant way of working to ensure the safety of our volunteers and the general public. Luckily we have had an appointment only system for some time which helps, but we needed to overhaul our rehoming process which is outlined below.
Covid-19 Rehoming Procedure
Look on our Dogs Needing Homes page and see if there is a dog you are interested in.
Complete the 'I Want a Dog' form with as much information as possible.
We will contact you if we believe that you could be a match and invite you to come to the kennels for a socially-distanced outdoor meet and greet in one of our large secure fields.
If the meeting goes well, the dog can be reserved at that time.
We will then conduct a virtual homecheck using Zoom or Messenger to check your garden and home, and may get references if required.
If all is ok then we will ask you to send payment for your new dog via bank transfer.
The dog will get a prehoming vetcheck and spay/neuter if required, and you will be invited to return to the kennels to complete the adoption paperwork and collect your dog observing social distancing at all times.
YOU CAN DONATE IN THE FOLLOWING WAYS:
Make a one-off donation using the Paypal banner below on the homepage
Use this Paypal link to set up a standing order http://www.caninecrusaders.org.uk/facebook400/
By Paypal direct using "k9crusaders@hotmail.co.uk"

By cheque (payable to K9 Crusaders) posted to Hollybush Farm, Bissoe, Truro TR4 8TF

Direct to our Barclays bank account via your online banking to Sort Code 20-87-94 • Account no 73625575

Today has been a difficult day. Unfortunately this is not unusual.
My phone log shows 24 incoming calls today-not particularly busy by our standards.
Out of those 24 calls, one was from a K9 Crew member, one was from a lady with items to donate, and one was from the owner of the little dog being admitted tomorrow.
The other 21 were from people wanting to surrender their dogs.
One was losing their accommodation. The other 20 had all fallen victim to debilitating illness and could no longer care for their dogs. Distressed, distraught people. Social services called on behalf of 2 clients.
How many of those 21 could I say yes to? Not one. All have joined the waiting list, queued behind those already waiting.
That is why it has been a difficult, heartbreaking day. It is why I can't even think about sleep. It is why I am writing this.
Why could I not say 'yes'?
One word. Money.

How do you think we are funded?
By the government? No.
By the local council? No.
By the lottery? No. Animal charities aren't eligible.
By some massive funding pot for charities? No, there isn't one.
So how do we keep going? One word. YOU.

You-who love dogs, who care about what happens to dogs. We rely on you. All those sick owners, and their dogs, all have no option but to rely on you to keep us going.
How do we pay the bills that enable us to stay here, and to run? With tremendous difficulty. There isn't enough money.
How do we maintain the site, repair and renew the fabric of the kennel complex? Voluntary help? Can't get any. Tried for years. So usually we patch the patches. There isn't enough money to renew or even repair.
How do we pay our vets bills? With tremendous difficulty. We currently owe £2,000. We can't go over that. The vets won't let us.

You maybe saw Duke's picture on our Facebook page, posted again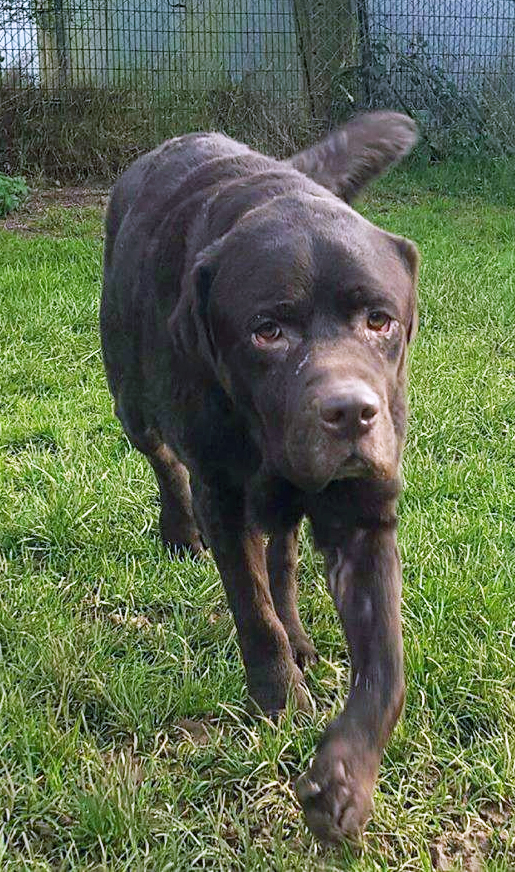 here. He isn't alone in needing veterinary attention.
He has had his first Malaseb bath and meds and is already a happier chap.
We are a dog welfare group-this is what we do-whatever it takes.
We cannot-will not-leave a dog to suffer.
If we don't have enough money available to treat dogs in need of help, we cannot take them in. We have to let down those dogs and their distressed and often emotionally exhausted owners.

If 4,000 people donated £1 a month to K9 Crusaders, we could fly, instead of stumbling along, as we do now.
Just £1 a month. Please.
What's stopping you?
Oh, and before you go, multiply today's 21 surrenders by 7. It will give you an idea of a busy week for K9 Crusaders. Welcome to our world.
£1 a month. Please. PLEASE. And support our fundraising attempts if you can-dog shows, jumble sales, auctions, fun days...please...
Donations can be made easily, check out the HOW TO DONATE tab