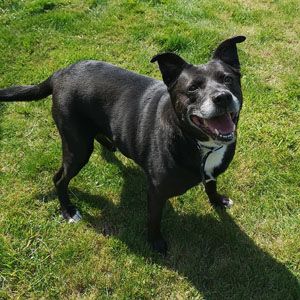 Ruby
Female Staffie x, 9 years old
Suitable with Children – Older Teens Only
Suitable with Other Dogs – Under Assessment
Suitable with Cats – Untested
Suitable with Other Animals – Unknown
GORGEOUS GIRL RUBY came to us when her owner passed away.
She was a sorry sight on arrival, quite distressing to witness. Amongst the many issues that needed addressing, she was morbidly obese, and in need of veterinary assessment and some treatment.
We have seen such a transformation in this dog since she arrived.
She has lost 3kg, and still has at least another kg to lose. We have watched the years fall away from her, she is getting younger each day, more active, and is loving life!
Ruby loves her walks, and enjoys playing fetch with a tennis ball. She loves food, but must have a kidney friendly diet for life now.
New owners must be weight conscious, and not allow her to pile on the pounds again.
Secure lawned garden for games and play.
At least 3 good walks a day.
Someone home all day as she loves human company.
Possibly older, sensible dog savvy children who can respect her needs.