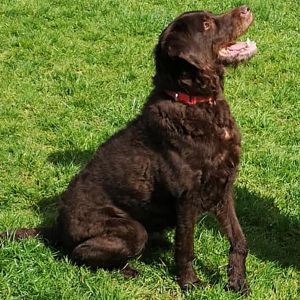 Willow
Female Labradoodle, 10 years old
Suitable with Children – 11 years and over
Suitable with Other Dogs – Under Assessment
Suitable with Cats – No Cats
Suitable with Other Animals – Not suitable
This furry bundle of joy is Willow, a larger Labradoodle who is believed to be around 10 years young.
She is the sweetest, kindest girl who is very people orientated-she loves attention and interaction, once she is sure of you. She can be a little nervous of the unfamiliar, and quite excitable, as you would expect.
She is a strong, active girl who loves her walkies, but be aware she could pull or knock over someone frail or unstable.
Willow has had a health MOT within the last week, and has a clean bill of health.
Kids-fine with visiting kids/grandkids from 2-12 years.
Dogs-happy to meet and greet, and play, but maybe not to live with.
Car travel-fine
Left alone-up to 4 hours once settled.