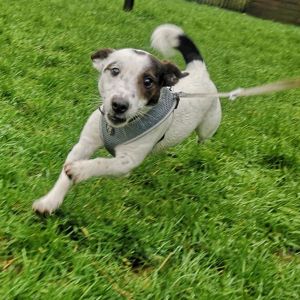 Bobby
Male Jack Russell Terrier, 1 years old
Suitable with Children – Older Teens Only
Suitable with Other Dogs – No Other Dogs
Suitable with Cats – No Cats
Suitable with Other Animals – Not suitable
Bobby is an 11 month old Jack Russell boy, who has joined us due to his owner becoming ill. He has lived with another terrier, but this didn't go well, so he is looking to be the only pet in his new home.
Bobby is sweet natured and affectionate, but like all youngsters he has surplus energy, and enjoys careering around the field, taking the corners on two legs!
Bobby is rather immature, and would benefit from having further socialising and training.
He is ideally looking for a home as an only pet, with adults who have plenty of time and energy for training and socialising, as well playing. He could live with older children of 15 years upwards. A secure dog friendly garden is a must for little Bobby, as he needs safe opportunities to run, develop and mature physically.