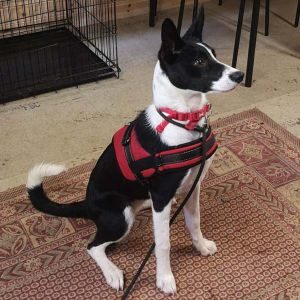 Lulu
Female Border Collie, 1 years old
Suitable with Children – Older Teens Only
Suitable with Other Dogs – Under Assessment
Suitable with Cats – No Cats
Suitable with Other Animals – Unknown
This stunning girl is Border Collie Lulu, aged 6 months.
Lulu is a super friendly, playful girl, very intelligent and keen to learn, but has not had any training so far. She has lots to learn, and lots of time to make up.
Lulu hasn't had the opportunity to exercise normally, so is short on stamina and muscle mass. Although a very high energy dog, her exercise will need to be controlled so she doesn't do too much too soon.
Lulu is looking for owners who are home most of the day, and able/willing to commit to training, obedience, and/or agility.