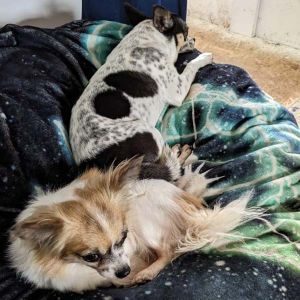 Gigi & Willow
Female Chihuahuas, 5 years old
Suitable with Children – 6 years and over
Suitable with Other Dogs – Male Dogs only
Suitable with Cats – No Cats
Suitable with Other Animals – Unknown
Litter sisters Gigi (black and white short coat), and tiny Willow (white and tan long coat) have been settling into their foster home.
These two just adore human company, attention and affection, and they love a cuddle.
Gigi is an independent little dog, a real action girl, whilst Willow is the opposite, she's happy to sit on your lap for as long as she can. That said, both enjoy long walks.
Although very different characters, they have lived together for 5 years and are an established couple.