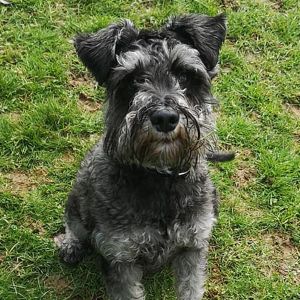 Harry
Male Mini Schnauzer, 1 years old
Suitable with Children – Older Teens Only
Suitable with Other Dogs – No Other Dogs
Suitable with Cats – No Cats
Suitable with Other Animals – Not suitable
Harry is an 8 month old Mini Schnauzer boy.
Harry has lead a quiet, restricted life, so he has a lot to learn about the wider world.
Harry is a sweet natured, affectionate, playful boy. He loves his walkies, and loves to investigate and explore. He is quite nervous of the unknown, and is very submissive.
He is scared of other dogs, and loud noises. In the absence of other opportunities, he directs all his energy into humping anything/anyone that is within reach!
Harry was startled to discover this morning that he could run freely in our field. He suddenly exploded into an all out run, then brought himself up short, looking very surprised. He's a bit overweight and lacks muscle, especially around his back legs.
He could live with sensible, thoughtful children of 14 years plus.
He would love a dog friendly garden for playtimes, and owners who love long walks, are able to commit to prioritising Harry's needs, and helping him make up for lost time.
Harry, your life starts now!