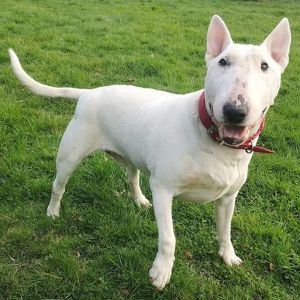 Buddy
Male English Bull Terrier, 10 years old
Suitable with Children – No Children
Suitable with Other Dogs – No Other Dogs
Suitable with Cats – No Cats
Suitable with Other Animals – Not suitable
K9 Crusaders received a request to help English Bull Terrier Buddy, who lost his home rather suddenly when his owner sadly passed away. He joined us as a rather bewildered and "lost" little soul. Poor Buddy was so obese he could barely move. He was wearing a small link choke chain. It wasn't cutting into his neck, but because of his extra weight it was overly snug, and there was no wiggle room to safely remove it.
Buddy immediately began a controlled diet and exercise program and has already lost over 3kg in his time with us. He has started to develop a waist and we have been able to safely remove his choke chain.
Buddy doesn't ask for much-he needs to be the only pet in an adults only home, with soft places to sit and lie down so his heels don't ulcerate, and 2 or 3 short walks a day, with owners who are home most of the day. Experience of the breed an advantage, but not essential.
Buddy is a huge character who will make the best companion you could ever wish for.