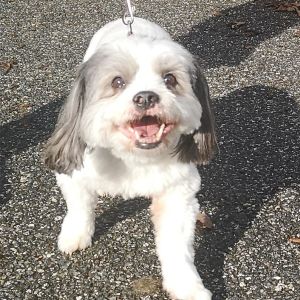 Cosmo
Male Shih Tzu x, 10 years old
Suitable with Children – No Children
Suitable with Other Dogs – No Other Dogs
Suitable with Cats – No Cats
Suitable with Other Animals – Not suitable
This very pretty boy is Shih-Tzu mix Cosmo.
Fun-loving Cosmo is a big character, bright, intelligent and very confident.
He likes to meet other dogs, and walk out with them, but he doesn't want to share his toys or his people with them. For that reason we are looking for an adults only home where Cosmo can be the only pet and the centre of attention, which he loves!
Cosmo loves playing and going for walks, and he loves a lap.
His coat will need regular attention from a professional groomer.