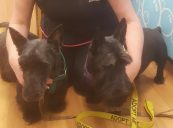 Ronnie & Storm
Male Scottish Terriers, 10 years old
Suitable with Children – No Children
Suitable with Other Dogs – No Other Dogs
Suitable with Cats – No Cats
Suitable with Other Animals – Not suitable
Scottish terriers Ronnie, aged 7, on the left, and Storm, aged 9, on the right.
The boys are closely bonded, and are looking for a home together.
These two very strong characters would love a home with a dog friendly garden, and someone home most of the day.
They do not get on with other dogs or cats, and have never been around children.
Storm loves to tear around our field, whereas Ronnie, who doesn't have the best conformation, likes to take life at a gentler pace.