Welcome to our Memorials page, where all our beloved furbabies can be remembered with love.
Losing a loved one is always hard, but as long as they are remembered they are never truly gone. Join with us in celebrating the life of these precious souls. All the dogs below are rehomed by K9 Crusaders.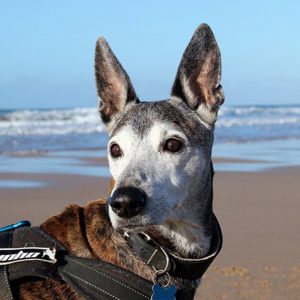 Buggs
Date: February 26, 2018
Huge thanks to K9 Crusaders for saving the life of this lovely old gent on the 16/01/15. He was a joy to have in our household, although I think they may need a little help with the definition of can you help with an emergency "for the weekend"!!! Buggs was our first "failed" foster. It was obvious from day one that he wasn't going anywhere.
Bugg's owner had died and he had been a one man dog who was lost without him. It was heart-breaking the way he used to hopefully approach any male visitors, then walk away dejected once he realised they weren't his owner. However, he quite quickly attached himself to Giles and lived happily with us for just over 3 years. Anything you asked of him, he would do. Go for a walk, play in the garden, ride in the car or run on the beach – he was happy to oblige. We particularly remember the huge smile on his face when he helped himself to the remnants of a roast beef joint that had been left unguarded on the kitchen table!
We had 3 lovely years with him until we sadly lost our big amenable boy to the big C on the 26/02/18.
← Back to RAINBOW BRIDGE MEMORIALS

If you wish to have your beloved pet added to our list of memorials then please email us at k9crusaders@btinternet.com quoting "Rainbow Bridge" in the title. Please feel free to add a photo, date and any message you would like included.