Welcome to our Memorials page, where all our beloved furbabies can be remembered with love.
Losing a loved one is always hard, but as long as they are remembered they are never truly gone. Join with us in celebrating the life of these precious souls. All the dogs below are rehomed by K9 Crusaders.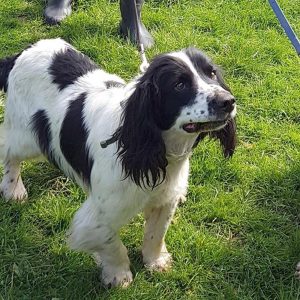 Toto
Date: November 24, 2020
Some will remember Toto and Chewie, two elderly spaniels, we were lucky enough to adopt in January this year.
Just sad to say that Toto, the black and white spaniel, became ill two weeks ago and was found to have tumours on his spleen. Rosemullion vets did all they could for him with treatment and medication and two nights in Falmouth vet hospital. He spent his last few nights at home and we parted with him on Tuesday.
He was a joy to us and 10 1/2 months with him was all too short but he was so happy here. Now we have his brother Chewie to care for and lovely memories of Toto.
← Back to RAINBOW BRIDGE MEMORIALS

If you wish to have your beloved pet added to our list of memorials then please email us at k9crusaders@btinternet.com quoting "Rainbow Bridge" in the title. Please feel free to add a photo, date and any message you would like included.