Welcome to our Memorials pages, where all our beloved furbabies can be remembered with love.
These beautiful souls are all dogs which have lived as Sanctuary Dogs with K9 Crusaders. Many have been neglected, abused or mismanaged to an extent where they needed the security and stability that the kennels provide. They are all our K9 Family and have a very special place in our hearts.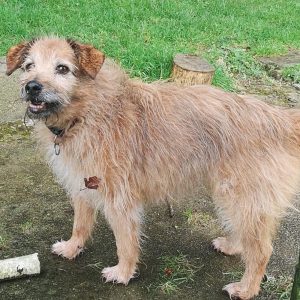 Poppy
Date: January 14, 2020
TODAY we lost one of our own.
K9 Crusaders Sanctuary dog Poppy was diagnosed with Lymphoma at the end of last year. Steroids gave her some extra weeks of good quality life, but a deterioration in her breathing accelerated today. She didn't want to go out for her lunchtime amble, or this afternoon. It's unheard of for Poppy not to want to go out. She went rapidly downhill and we all knew it was time. Poppy had a will of iron, but her poor body could not respond.
Thank you to our lovely vets at Clifton Villa, Truro, for their kindness, cooperation and patience.
How did Poppy come to be a K9 Crusaders sanctuary dog?
Her pretty, 'butter wouldn't melt' looks belied her true character.
Red Patterdale mix Poppy was a formidably intelligent little dog with a will of iron. She was unlucky with some, though not all of the humans she encountered, but unfortunately the bad ones caused lasting psychological damage. Poppy bore grudges. Huge grudges. She had a temper, and was lethal with both dogs and humans. I was her only handler initially, until she softened enough to let others in, provided they followed the rules.
Poppy loved to be out. We spent hours hanging out in the fields, and playing fetch with tennis balls, her all time favourite. We had our own ritual, a little dance we used to do. It was our way of inviting mutual play. If she didn't want to play, she would regard me intently with a cold stare of utter contempt..
Her speed, focus and execution of the chase was both beautiful and awesome, and terrifying. If it had a pulse, it didn't stand an earthly against Poppy.
As time passed, she mellowed further, and in her latter years, her circle of handlers increased, and she had her own fan club.
Poppy was not comfortable with humans entering her personal space uninvited. The day she accepted being brushed was momentous. When Poppy didn't resist being picked up, and taken to the vets, we knew something was badly wrong. She still warned the vet not to take liberties!
We were pleased with her reaction to the steroids. She enjoyed her food, and together we spent time ambling round the yard, field and patio. She just loved being out.
Poppy taught me so much. I've known many dogs, but only one like Poppy. Her intelligence, her focus, her temper and her courage-what an electrifying, explosive mix. Time spent with Pops was anything but relaxing, and never boring!
We shared so much. I swear those liquid brown eyes looked straight through into my soul. Keep dancing, Mistress Poppy, and wait for me. Hope there's tennis balls aplenty, and please leave the other dogs alone… please..
← Back to RAINBOW BRIDGE MEMORIALS

If you wish to have your beloved pet added to our list of memorials then please email us at k9crusaders@btinternet.com quoting "Rainbow Bridge" in the title. Please feel free to add a photo, date and any message you would like included.