Welcome to our Memorials pages, where all our beloved furbabies can be remembered with love.
These beautiful souls are all dogs which have lived as Sanctuary Dogs with K9 Crusaders. Many have been neglected, abused or mismanaged to an extent where they needed the security and stability that the kennels provide. They are all our K9 Family and have a very special place in our hearts.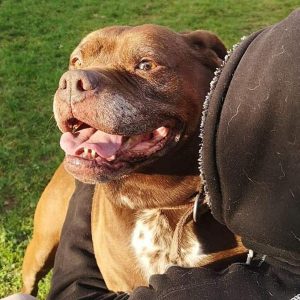 Dolly
Date: April 8, 2022
Today our beautiful, soulfully sweet and affectionate Dolly left us.
Dogue de Bordeaux mix Dolly was an older girl, around 12 years old, we think. She was on medication for an underactive thyroid, and she had Spondylosis of the spine, but she was happy.
On Wednesday she didn't want to eat, which was most unlike her, and just didn't seem right. We thought maybe a tummy bug. The vet could find nothing untoward so we came home to monitor the situation.
It was a shock on Thursday when she went off her back legs, and we rushed back to the vet.
X rays showed she had a slipped disc.
Sadly she was not a candidate for surgery. A large breed mix of 40 plus kg, with the existing Spondylosis, underactive thyroid, and her age were all against her. We then discovered she was unable to pass wee or poo, either voluntarily, or involuntarily, and expressing it manually gave little success, which was concerning as this would put her at risk of continuous urinary infections.
Because of the Spondylosis, Dolly was not a candidate for a mobility cart either. Her front legs weren't strong enough. Options slipped away from us.
After much discussion and deliberation, we found ourselves facing an unwanted and unwelcome decision, but it can only ever be what is right for the dog, not about what, or how we want it to be. Dolly was unhappy and stressed to find her legs not working. With all the other factors involved, and no hope of recovery, we let Dolly go peacefully this morning.
Dolly came to us 8 years ago, having been removed from a dog fighting farm in a police raid. Covered in wounds, Dolly was physically, emotionally and mentally scarred. Her physical wounds healed, leaving her beautiful red coat flecked with patches of white hair, constant reminders of her traumatic past. Mentally and emotionally, things took a lot longer. Deeply depressed, Dolly remained withdrawn, reserved and shut down. She went through the motions, but it took the best part of 4 years to see expressions flicker across her face, and her eyes begin to light up.
Dolly proved to be the sweetest, most affectionate soul with her familiar humans. Being formidably strong and dog aggressive didn't make her the ideal rehoming candidate, but here she continued to come out of herself, develop and grow as her true character emerged. As she aged, so she started to mellow towards other dogs, though she could never be trusted up close and personal without the fence in between.
She loved her car rides, cuddles and rough and tumble (albeit with a few resultant accidental bruises for the humans), walkies, and she was a bit of a foody. She relished her food, she was never greedy, but she loved the bone broth, and anything a bit special. She would carry entire bowls of food into her bedbox to savour. She was an easy girl to spoil.
Every morning I looked forward to my breakfast cuddles and kisses. Come rain or shine, it was our ritual. I couldn't wait to get my Dolly greeting. Her empty kennel is unbearable.
Yet again our hearts are broken, and the tears won't stop falling.
How different it might have been if she hadn't been with those despicable b******s for her first few years.
Dolly, you were special. So special. We will always love you, girl. Thank you for trusting us. What a privilege. You, my brave girl, are worth every one of these tears.
← Back to RAINBOW BRIDGE MEMORIALS

If you wish to have your beloved pet added to our list of memorials then please email us at k9crusaders@btinternet.com quoting "Rainbow Bridge" in the title. Please feel free to add a photo, date and any message you would like included.