Welcome to K9 Crusaders Dog Welfare
Thanks for visiting us today.
We are a Cornish based rescue, rehoming and rehabilitation centre who service the whole of Cornwall. We are independent and rely solely on donations to survive and on our team of dedicated volunteers to run the centre, fundraise, conduct behavioural support, and advise on any aspect of dogs and dog welfare.
Please have a look around our site; learn more ABOUT US, see our DOGS NEEDING HOMES, check out our UPCOMING EVENTS or read our LATEST NEWS.
If you need to get in touch with us regarding anything dog related please use our CONTACT US form or call us anytime on
01872 560232
PLEASE VOTE FOR K9 CRUSADERS NOW
K9 Crusaders have been lucky enough to be shortlisted in the Community Cashback Scheme for our £400 refurbishment project at the kennels. And we need your help!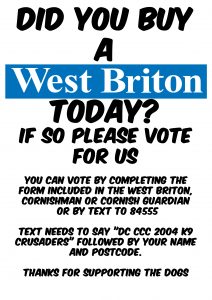 If you bought a West Briton, Cornishman or Cornish Guardian you can vote by completing the form included in the paper or by text to 84555. Completed forms can be sent to the WB office or can be taken to kennels or OUR CHARITY shop (65 Trelowarren St, Camborne) if easier for you.
Text needs to say "DC CCC 2004 K9 Crusaders" followed by your name and postcode.You can vote as many times as you like, so put those FREE texts included in your mobile package to good use and VOTE FOR US!
Latest Video
Details for Billie are
HERE
We are looking for motivated and committed people to volunteer in key areas of the charity including fundraising, site maintenance and kennel work. If you have what it takes and you think that you can devote a few hours to making dogs lives better then please complete the
APPLICATION FORM
.