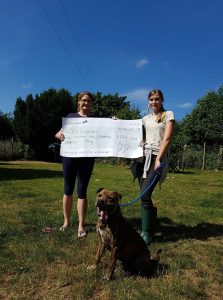 WE WERE DELIGHTED to welcome Demelza from King Edward Mine, with a whopping cheque for £120, raised from their very successful dog show.
The cheque was received on behalf of K9 Crusaders by kennel assistant Lauren Jenkin, and handsome mastiff mix Indy, who stole the show, of course.
Thank you so much, Demelza, and all those who attended and supported us.
We look forward to seeing you again soon, and participating in your next show!