ALWAYS A PLEASURE to catch up with Sammi from Trespass in Falmouth.
Both staff and customers are keen supporters of K9 Crusaders, and Sammi arrived with two bags of donations, including Chappie, biscuits, yummy treats and some food.
We are grateful to Clemo's of St Just, and their very kind customers who have contributed to Sammi's haul.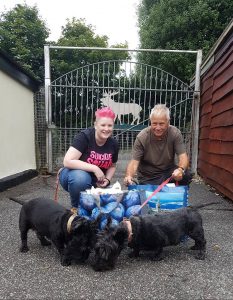 Sammi is pictured with volunteer Alan, and bookends Ronnie and Storm, on quality control, naturally. After sampling the goods, they agreed the other dogs could have some too!
Very grateful thanks once again to Sammi and the Trespass team, and their customers, for supporting us.
Not been along to Trespass yet? You are missing out. Remember to take your dog along too, especially if he/she is a rescue….