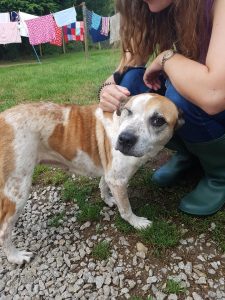 THIS IS MOLLY.
Life has not been kind to Molly.
Today Molly came to K9 Crusaders. Thirsty and hungry, she now has water, food and a very comfy bed.
She craves attention, and has been cuddled and fussed and told she is beautiful, and loved-many times over.
She has been to see the vet, and had an injection to stop her sore skin irritating her. She has had Advocate applied to rid her of her flea infestation, and will be having treatment to rid her of worms.
Her long claws have been clipped so she doesn't have to stand and walk on her heels, causing strain on her tendons.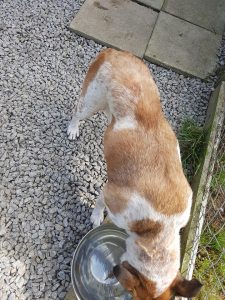 Tomorrow Molly will be able to spend time in our fields, doing what she fancies doing. She will go for a walk round our lanes if she likes. She will be fed, watered, cuddled, loved and given whatever care she requires, until such time as someone else falls in love with her, and takes her home.
MOLLY DOESN'T KNOW its holiday time. Or that our financial donations have dropped away dramatically. She doesn't know we don't have enough to pay the bills this month. She doesn't know we are desperate for funds.
All Molly knows is that when she needed help, we were here.
WE NEED your support, not just for Molly, but for all the Mollys out there.
Please give whatever you can afford-the dogs need your help urgently.
You can:
paypal k9crusaders@hotmail.co.uk
Bank transfer sort code 20 87 94
Account no 73625575
Send a cheque made out to K9 Crusaders
Set up a standing order
Buy from our charity shop in Redruth
Attend and support our fundraisers
Thank you