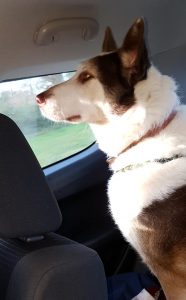 GERMAN SHEPHERD MIX, BUD, one of our resident dogs, enjoying this morning's car ride.
Bud is severely epileptic, and does not react well to unfamiliar people, places or situations. He loves his safe, secure environment and routine, and his familiar carers.
Bud enjoys quiet walks in familiar lanes, and games in the field-frisbee is his all time favourite.
Bud has aggression issues associated with his epilepsy, which is why he cannot be rehomed into the community.
With us he has a home for life, where he is managed with knowledge and love. He is valued, respected and cherished.
Along with all the dogs here, whether rehomers or residents, Bud will be enjoying his 3 course, home cooked Christmas dinner on the 25th.