On the 7th June this message was posted on the K9 Crusaders Facebook Page, with yet another challenge for Kez…..
THANK YOU to all who have donated..ANOTHER £20 will see us hitting the £1,000 mark! £20! Who will get us there?

Can we do it for the dogs?

MISSION IMPLAUSIBLE…..
Firstly we would like to say a WHOPPING thank you to everyone who got involved. 

Your support and generosity have helped The Hair for the Dogs challenge to smash its target, and raise £925….so far!
But-we are not done yet, and would very much like to reach £1,000-that's double the original target!
So….your mission-should you choose to accept it-is to help us raise another £75 towards our agility equipment and ongoing veterinary costs within the next 24 hours!

IF THE TARGET is reached, our intrepid strawberry fool (aka Kez), will attempt to sneak into a local garden centre with a giant plant pot, and plant himself amongst their strawberries-without getting asked to leave!

LETS DO IT FOR THE DOGS AND FOR KEZ!
This post will self destruct in 5 seconds….implausibly….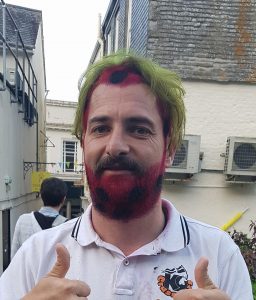 AND YOU ALL DONATED AND SO HE DID IT!!
And here's the evidence…..