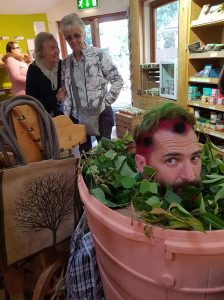 Rocking Trevaskis!
We would like to thank the owners, managers, especially Serena and Sally, and staff of Trevaskis for allowing us to take up residence in the Farm Shop today from 11-3, and for being so welcoming, friendly and accommodating.
We were privileged to be able to promote Trevaskis' own scrumptious strawberries, as well as hold a collection for the K9 Crusaders dogs.
We would like to offer also our humble thanks to the very many Trevaskis customers who came into the Farm Shop today, and entered fully into the spirit of our venture. It was a joy to see your reactions, and be amongst so many laughing, smiling faces. Our 4 hours flew by.
Trevaskis-we hope you sold loads of strawberries! 🙂 It was certainly 'fruitful' for K9 Crusaders-you all helped us raise a juicy £71.26!
THANK YOU!