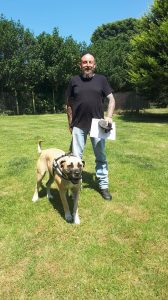 A WEEK AGO, we waved goodbye to little Benny, one of our tiniest dogs.
Today we waved goodbye to our biggest girl, Boerboel Layla.
New dad Trefor has visited Layla several times, to learn about this special girl's needs, and to bond with her.
Thank you, Trefor, we wish you and lovely Layla all the very best for the future.
Thank you Sheila, from Baddogz, for helping us with Layla.