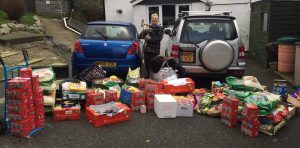 CHRISTMAS HAS COME EARLY for our dogs!
We are totally overwhelmed by the wonderful generosity and kindness of all of you who donated to the amazing Karl Sims and Emma Sims. Just look at what you have achieved!
You have no idea just how much these donations mean to us, or what a difference they make to the dogs we care for here.
To all of you, and of course to Karl and Emma who have devoted their time and energy to organise, sort, pack and distribute-a truly MAHOOSIVE thank you! You are all heroes…❤
Merry Christmas!