Here is one of the latest dogs rescued by K9 Crusaders. Sue knew I had recently lost my 2 oldies (see my profile pic) that had both been rescued in sad circumstances by K9 Crusaders and asked me to take on another.
Bugg's (lurcher cross) owner had died and he was a one man dog who was lost without him. However, he attached himself to Giles and lived happily with us for just over 3 years till we sadly lost our big amenable boy to the big C in February.
Suzey (JR) had already been rescued once and due to sad circumstances her owner wanted to know she would be looked after for the rest of her days. We took her to the vet in May as was sick one night. Sadly, she was riddled with tumours and nothing could be done for her and we lost our "little lioness" who had been with us for 2 years.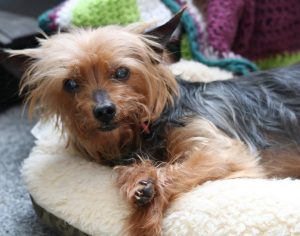 Sue then asked me whether we would take on another oldie that was in desperate need of some tlc. Of course we said yes and duly went to the kennels to collect Tilly who was absolutely starving and nothing more than skin and bone. The poor little mite didn't stop trembling for the first 48 hours.
We started by feeding her decent food little and often. She has no teeth so her tongue oftens hangs out the side of her mouth. Both her eyes are cloudy, but she doesnt appear to have any problems with her vision. She had bald patches and her ears with nothing more than hard leather. She wheezed when breathing which we have since learnt is a common problem with little dogs who have problems with their tracheas. When she did a wee, she crouched and lifted her right rear leg. The vet said this was due to a lack of muscle mass.
Fast forward a few weeks and Tilly is now a loving little lap dog whose weight has increased by 50% and whose legs are getting stronger. The vet is very pleased with her progress. She is down to the normal feeding schedule of twice a day and only needs a special bath once a week instead of daily. The bald patches have gone and we can't quite believe it but the hair is starting to return to her ears!
This post is about 3 dogs that I personally have been very involved with. What would have happened to them and the many others if there was no K9 Crusaders? Hundreds have gone on to loving new homes, with a few needing to remain as sanctuary dogs as K9 Crusaders operates a strict "no-kill" policy, which means they save every dog which is either healthy or treatable.
Why have I written this? I have written this because K9 Crusaders has over 40 dogs in its care at any one time with a constant waiting list of local dogs desperately in need of their help. There are dogs of all sizes and of all ages. However, the basic running costs are £1,000 per week. They also have a vet's bill in excess of £2,000 that needs to be cleared.
The kennels relies solely on donations and its own fund-raising. I know money is tight for everyone but is there any chance you could spare £1 a week to help them continue looking after both the current and the future dogs?
They cannot continue without your support. K9 Crusaders bank details for a regular donation are sort code 20-87-94 account number 73625575 or a one-off donation can be made by paypal to k9crusaders@hotmail.co.uk or sent by cheque made payable to K9 Crusaders, Hollybush Farm, Bissoe, Truro. TR4 8TF.
Please please help if you are able and share in case any of your friends might be able to donate. No contribution is too small. The dogs are relying on you. Thanks very much for reading.