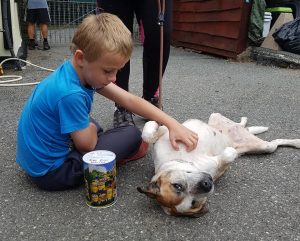 WE WERE DELIGHTED today to welcome one of our youngest supporters, Harry Benney.
Harry, who is passionate about dogs, has been saving his pocket money, and brought us his full money box. Twinkle was on hand to soak up some attention and fuss.
Not sure who was the most ecstatic here-Harry or Twinkle!
Thank you Harry-perhaps a future dog rescuer in the making!
Thanks also go to Ealasaid Lisa Parker for her most welcome box of change, and the clients of All Saints Community Centre, who sent us the proceeds of their collection box.
Thank you all.