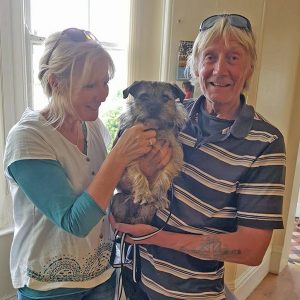 BENNY didn't have the best start in life. His traumatic and negative experiences have left him undersocialized, and with no trust in humans.
Here at K9 Crusaders we gave Benny the time and the space to recover, and the foundation on which to build positive experiences, and gain trust in people.
Benny learned how to be happy here, but we couldn't find anyone prepared to take the baton from us, and invest the time, patience and work to take Benny on to the next stage. Until now. Graham and Liz have visited Benny every day now for weeks, gently and patiently building trust, inspiring confidence, and bonding.
Yesterday, after a successful home visit last week, Benny was neutered, and rehomed to his new mum and dad!
Good luck, Benny, be a good boy!