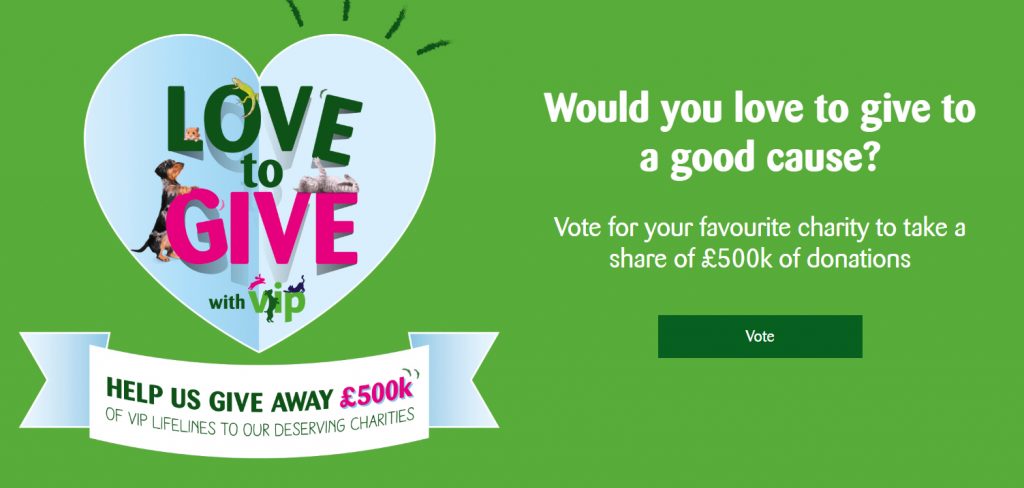 How to Vote
Voters must be UK residents and aged 18 years or over.
Voting will open on 2nd May 2018 (the "Opening Date") and continue to 31st May 2018 inclusive. Votes received after midnight on 31st May 2018 (the "Closing Date") will not be counted.
To vote, visit www.petsathome.com/viplovetogive and follow the instructions. Voters can also vote in Pets at Home stores via the Pet Pad.
To vote for K9 Crusaders you must first vote for one of the national charities, then select TRURO as your local store, then select K9 Crusaders from the options. Complete your details and VOTE. Simple and FREE!

You can vote up to 5 times!!

Thanks for voting.
Voters must have a valid email address to vote. No purchase is necessary.
Each voter can vote for one charity in the national charity category and one charity in the local charity category per voting form.
The national charity category comprises of ten national charities that are registered with the Pets at Home VIP club at the Opening Date
The local charity category is split into 25 regions across the United Kingdom. The category comprises of local charities in each region that are registered with the Pets at Home VIP club and their local Pets at Home store at the Opening Date.
Each voter is permitted to submit a maximum of 5 voting forms. Further votes received will not be accepted.
The results of the Charity Giveaway will be announced w/c 18th June 2018 and all winning charities will be contacted by 30th June 2018.
[ssba-buttons]