Hi. I'm Kez and I am doing a fundraiser for Cornish Dog Welfare Charity K9 Crusaders. I decided to take action after seeing a recent appeal for help with our vets' fees, which last year totalled over £22,000. We have a no-kill policy and have running expenses of £1,000 per week to keep the many dogs in our care fed, watered, exercised and given the care they deserve. As someone who has devoted themselves to animal welfare, I firmly believe that while the dogs in our care are waiting for individual homes of their own, they should still get the full medical care that they need. My goal is to raise £500 towards our current vets bill, with any extra going towards materials to build our own agility equipment.
The Fundraiser-How It Works.
There are 6 extreme hairstyles.
Vote for which style you would like Kez to have. Each vote costs £2, and you can vote as many times as you like, and for as many of the styles as you like. The style with the most votes wins!
We have teamed up with Phil, who runs The Salon, Falmouth.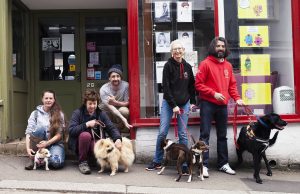 The Salon team are charged with creating the winning style, as chosen by you!
Voting may be done on our Totalgiving page but ensure that you add the name of the hairstyle (ie 2 – VIKING) into the comments section after your £2 donation.